Contact
10807 Falls Road, #978
Brooklandville, MD 21022

P: (443) 275-9669
F: (443)927-7517
W: www.forestcapitalusa.com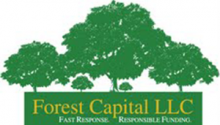 Summary
Headquartered outside of Baltimore, Forest Capital has more than 50 years experience providing alternative financing to small- and mid-sized companies in the United States and Canada. They provide working capital finance secured by accounts receivable of organizations in the high technology, energy, government and staffing sectors. The company also finances receivables due to and from foreign countries. Most of their clients are referrals from professional advisers and business consultants. Service details include:
A typical Forest Capital transaction closes in 10 to 15 business days from the original introduction.




Facilities range from

$50,000 to $5 million.




After account setup,

Forest Capital advances up to 90 percent of the value of each invoice, usually within 24 hours.