Contact
900 E. Hamilton Ave. Ste. 100
Campbell, CA 95008

P: (408) 275-8006
F: (408)268-8670
W: www.graystonecap.com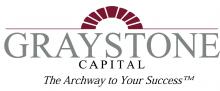 Summary
Graystone Capital is a California-based, financial services firm founded in 2005. The company specializes in asset-based lending and factoring products for small businesses located throughout the United States. Services include:
Accounts receivable financing: A

dvance rates typically range from 70 to 85 percent of the value of eligible accounts.

F

inance fees are charged on the average daily loan balance, not on the face amount the invoices.




Invoice factoring




Purchase order financing




Inventory financing: This type of funding is performed with the company's accounts receivable financing.



Graystone targets companies that need revolving credit facilities from $100,000 to $3 million. The company serves manufacturers, wholesalers, distributors and owners of service and technology businesses.